Global Business Support
For a successful entrance to an overseas market, a comprehensive understanding of the local market, corporate culture, tax system, and labor system is essential in advance of executing the business plan in the new market.
In collaboration with IPG, a global network of accounting, tax, and legal advisors, we will support your expansion into the new market as a bridge between the local advisory team and your team.
Stages of overseas market entry and service examples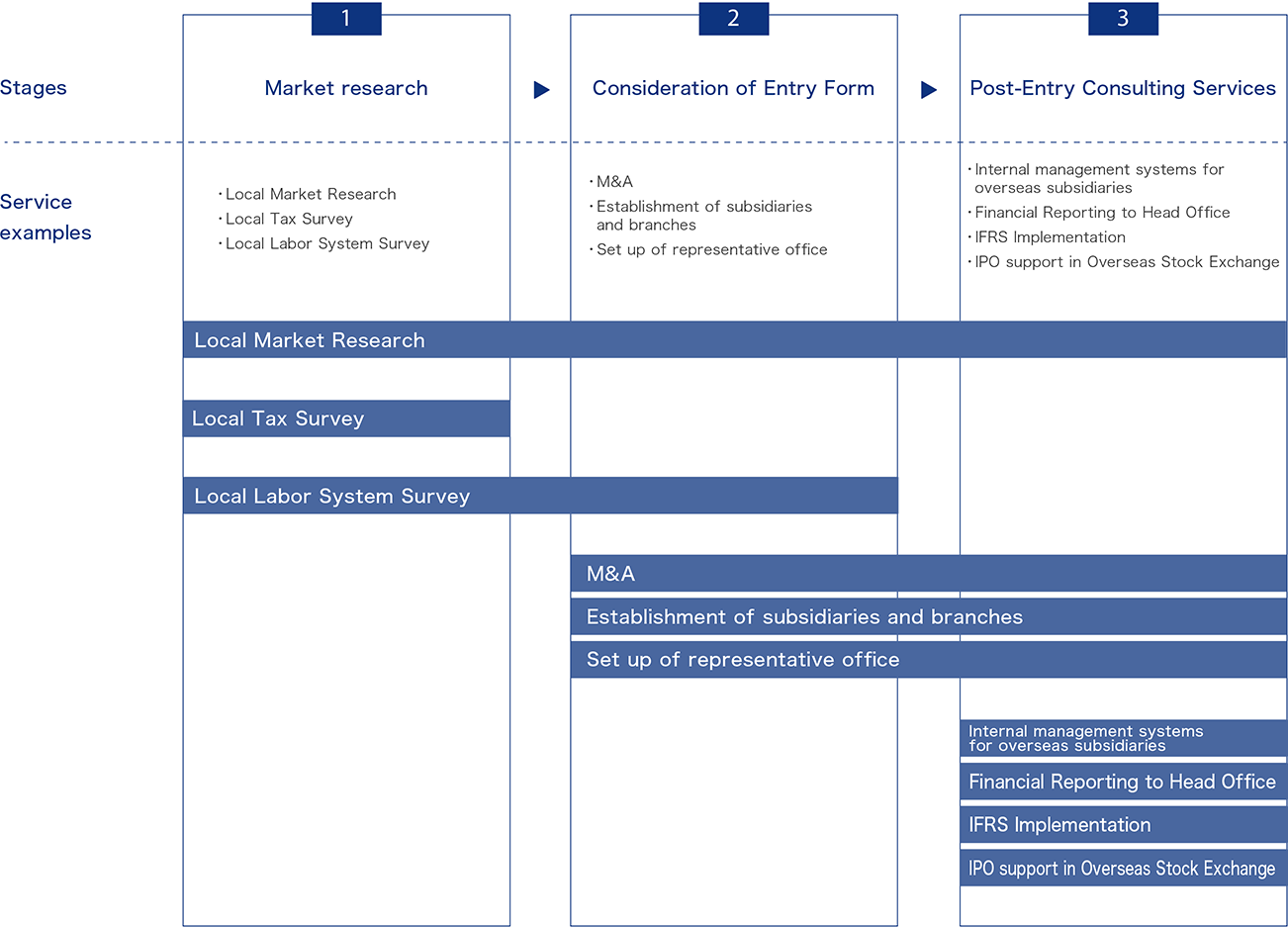 Service Details
Local Market research
Working together with local government agencies and consultants, we will perform market research of the demand, supply-side constraints etc. expected in the market you plan to entry together with your team.
Local tax survey
We will prepare a summary report on the tax systems in the country where you plan to expand. In addition, upon request, we will propose the optimal structure of entry considering the tax aspects of the investment and repatriation of profits between the local entity and the head office entity.
Local labor system survey
We will prepare a summary report on the labor system in the country where you plan to expand.
M&A
The number of companies that use M&A of local businesses as an opportunity to enter overseas market is increasing year by year. As a financial and accounting advisor within your M&A team, we will support the execution of financial due diligence of the respective business.
Establishment of subsidiaries and branches
Regarding the form of entry in the country where you plan to expand, we will consider from a tax perspective whether a subsidiary or a branch is suitable.
Internal management systems for overseas subsidiaries
Establishing internal controls and organizational structures at overseas subsidiaries is essential for business risk management and solid business execution. We will support the establishment of internal management systems within the overseas subsidiaries.
Financial Reporting to Head Office
It is essential that accurate and concise information of the business is reported to the head office in a timely manner for appropriate decision-making and management of business risks. We will support the establishment of financial reporting processes for overseas subsidiaries and the development of finance team structures to enable timely reporting of financial results.